SCM provides detailed information for each baseline setting. To access this information for a particular setting, click a setting (row) to display its high-level configuration information, and then click Setting Details to display information about it as illustrated in the following figure:
UI Path. Defines the entire path to where the setting resides on the computer.
Description: Describes what the setting is designed to enforce.
Additional Details. Provides CCE-ID and registry information specific to the setting.
Vulnerability. Explains how an attacker might mount an attack if the setting is configured in a less secure manner.
Potential Impact. Explains the possible negative consequences of countermeasure implementation
Countermeasure. Explains how to implement the countermeasure.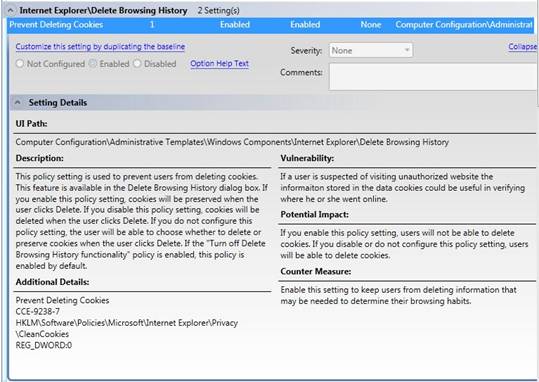 To exit the Setting Details view, click the arrow button next to Setting Details.