There are commands available on the main menu of SCM that you can use to check for updated baselines and application updates. In order for these features to work the computer must have access to the Internet.
To manually check for new Microsoft baselines and baseline updates
1. On the main menu, click File and then click Check for Updates (Ctrl+U).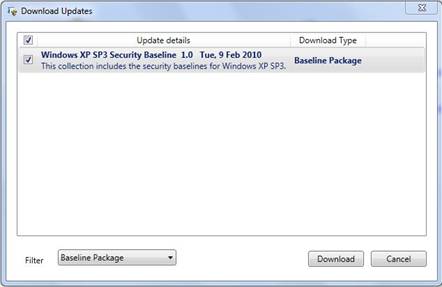 2. In the Download Updates dialog box, wait for the baseline update information in the Update Details pane to appear, and then click Download.
3. If the following Confirm Save As message appears, "A file with the name <Microsoft product baseline name> already exists. Do you want to replace it?" click Yes or No on the message to either complete the download update process or cancel it.