Managing HP Server Updates with Configuration Manager
Configuration Manager scans ProLiant Servers from the updates published to the Updates Repository. Each entry in the Updates Repository includes the applicability rules to allow Configuration Manger to successfully complete the scan for the particular update.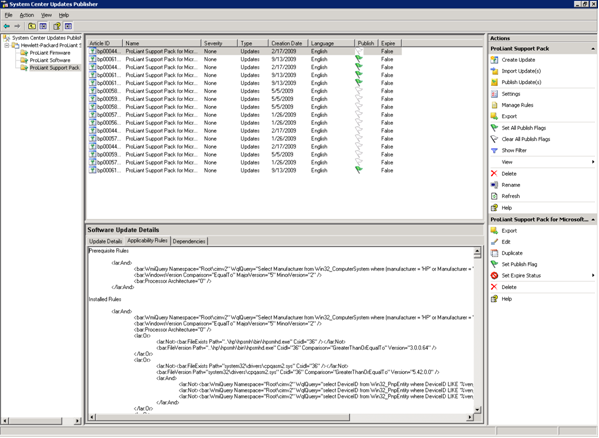 The steps in the Importing and Publishing HP Updates detail the procedures to change the entries in the three Update Repository folders (ProLiant Firmware, ProLiant Software, and ProLiant Support Pack) with the newer component versions. The synchronization does not remove the older components. Publishing the latest updates periodically from the HP Catalog enables Configuration Manger to retrieve the newer updates while the retaining the older Smart Components and PSPs to continue to use these older versions to update the ProLiant servers. The number of entries within these folders is managed by the administrator and not by the HP Catalog applicability rules.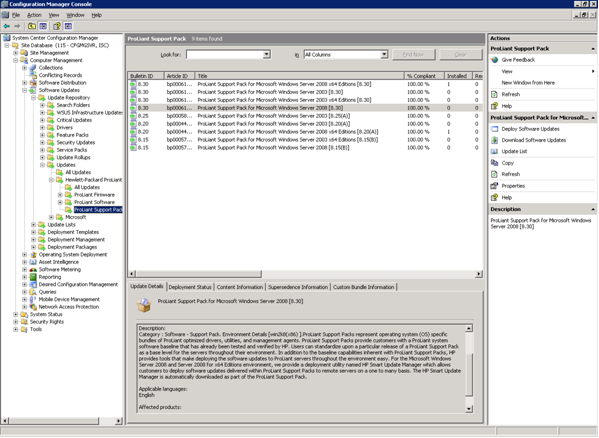 When an older PSP and Software update are required and are missing from the Updates Repository folder, the administrator can separately download the updates from the HP website and deploy them through the SCCM Software Distribution feature. The procedures are detailed in the HP ProLiant Server Updates through System Center Configuration Manager 2007 Software Distribution White Paper.

[an error occurred while processing this directive]